In the wake of a number of polls which suggest around one in five Americans incorrectly believe that Obama is a muslim, a Republican National Committee member has criticized the coverage of the issue by online magazine Politico.
"BTW he personally told the muslims that he IS a muslim," wrote the Iowa RNC member. "Read his lips."
In addition to this, Kim Lehman, the woman behind the messages, lashed back at an article by the site which, she claims, was trying to 'protect' Obama.
Several blogs and news websites have since picked up her remarks against the President as a news story.
When contacted by reporters, Lehman reportedly stuck by her opinion and the views she had expressed online, saying
"I was watching television when he was over there talking to the Muslim world and he made it, in my opinion, clear he was partially Muslim," Lehman told the Huffington Post. "The way he was approaching that speech was, 'Hey I'm one of you. I'm with you.' He didn't have to say that... but he did."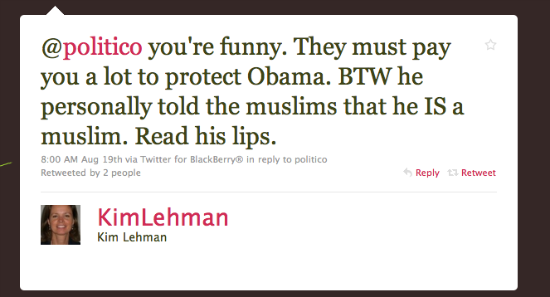 "Again, going back to his speech... he would have said I'm a Christian and I'm from the Christian religion and we can work together. It didn't appear to me he said Christianity was part of his religion," she said when asked about Obama's claims that he is a Christian.