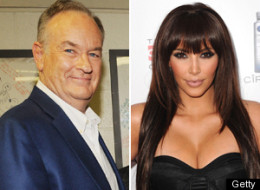 Conservative commentator and Fox News personality Bill O'Reilly has unleashed against an Elle Magazine photo-shoot featuring teen singer Justin Bieber, 16, and reality TV star Kim Kardashian.
Reacting to photos of the 29-year old's shoot with Bieber, Fox News commentators weighed in on the nature of the shoot, and whether or not it was done in poor taste.
"I think it's gross," Margaret Hoover told O'Reilly on Friday night. "It's like a pre-pubescent 16-year-old having an affair with a celebutante!"

"I wanted to be a baseball player [when I was 16]. I didn't want to hang around with Kim Kardashian," he said. "I had a baseball bat and a glove and ice skates! That's what I was doing.
I'll tell you this: If a 16-year-old girl was pictured with a 29-year-old man in any of that, he'd be in big trouble. Game over," he went on to say.