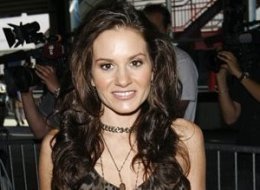 Recently ousted American Idol judge Kara DioGuardi only found out she was fired from the show when she read it in the news, her Republican father revealed in an interview on 'Capital Tonight'.
"Would you believe she did not hear, and still has not heard, anything?" Joe DioGuardi tells the interviewer. "She read it the way you did and I did. Her disappointment is that that's the way she's being treated and she feels that's not proper. I think they're trying to create a lot of buzz."
DioGuardi was part of a massive revamp of the show's judging panel after the producers decided that the general format needed a shake up. American Idol has been the subject of much attention within the television industry, with ratings falling and producers struggling to find their footing in the schedule of TV viewers.
Watch the interview with DioGuardi's father below. We suggest that you watch from 4:15.