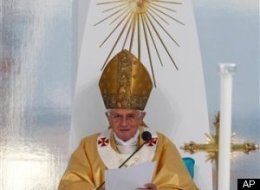 Pope Benedict has stirred up yet another verbal controversy after saying that abortion and gay marriage are some of the 'most insidious and dangerous' threats facing the world today. He further asserted key teachings in an attempt to veer focus away form the clerical abuse scandal.
Benedict, according to the Associated Press, made the comments to Catholic social workers and health providers after celebrating mass before a crowd of about 400,000 in Fatima, Portugal.
The AP added:
Benedict's visit to Fatima on the anniversary of the apparitions was the spiritual centerpiece of his four-day visit to Portugal, which ends Friday. It was cast by Vatican officials as evidence that he had turned a page in weathering the abuse scandal, which has dogged him for months.

The Vatican spokesman, the Rev. Federico Lombardi, pointed to the turnout in Fatima and said it was "very beautiful and encouraging" that pilgrims hadn't been deterred in expressing their faith despite months of revelations in Europe about priests who molested children and bishops and Vatican officials who turned a blind eye.