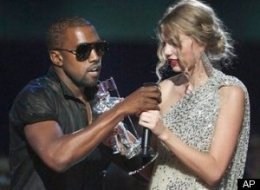 Kanye West, the hip-hop star who caused controversy when he interrupted country singer Taylor Swift at the Grammys last year, has apologized to her (via Twitter) and revealed that he wrote a song for the 20-year old.
West 'unleashed a torrent of emotions on his official Twitter account', according to the Associated Press, while also acknowledging that he had done wrong in interrupting the order of events last year, as well as saying that the award Swift had won should have gone to Beyonce.
He also revealed, also via Twitter, that he had been the subject of death threats and much public disapproval since the incident. "How deep is the scar ... I bled hard ... cancelled tour with the number one pop star in the world ... closed the doors of my clothing office," he tweeted.
The incident at the Grammys in 2009 provoked worldwide media attention. President Obama even referred to West in a press conference as a 'jackass'. "I'm the guy who at one point could perform the Justin Timberlake on stage and everyone would be sooo happy that I was there," he wrote.
"People tweeted that they wish I was dead ... No listen. They wanted me to die people. I carry that. I smile and take pictures through that."