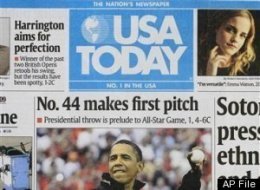 The United States second largest newspaper is planning a 'radical' overhaul in which, the Associated Press reports, about 130 jobs are expected to be cut. The newswire reports that the paper, which is owned by print giant Gannett, is planning to trim down its print division and focus more on digital endeavors.
The layoffs will result in around 9% of the company's 1500 employees. The publisher of the paper, who spoked with AP, said that he was not aware as to where the layoffs will occur.
USA Today is just one of many major US newspapers which have been dramatically altered financially in the last few years, as the internet and other ways of receiving news brush of the crumbs of 'old world' print media. However, the publisher of the USA Today remains positive and upbeat about its prospects.
"This is pretty radical," he said of the overhaul. "This gets us ready for our next quarter century."
"We'll focus less on print ... and more on producing content for all platforms (Web, mobile, iPad and other digital formats)," according to a slide show presented Thursday to USA Today's staff. The AP obtained copy of the presentation. [Via AP]