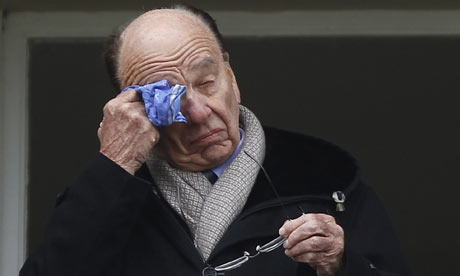 News Corporation, the media and information behemoth governed by newspaper overlord Rupert Murdoch, is reportedly planning a 'digital newspaper' aimed at owners of tablet computers like Apple's new iPad, which is already transforming the small market that already exists for tablet-based computing.
The company, which owns such titles as the Wall Street Journal and the New York Post, is looking to compete directly with more liberal and upmarket titles such as the New York Times - especially as one of the company's more controversial properties, cable channel Fox News, continues to spew more embarrassingly conservative propaganda.
Murdoch seemed elated about the project in the company's recent conference call.
"We'll have young people reading newspapers," the septuagenerian (near octogenarian) said.
"It's a real game changer in the presentation of news."
Murdoch and his company have been at the centre of the media world's fight to have newspapers survive in the digital age. He fought a rather public battle with internet search giant Google over concerns regarding use of newspaper content in online aggregation services and has been an avid public promoter of the subscription-based web revenue model.
Another News Corp company, News International - which owns the trashy tabloid The Sun, and the even less earnest News of the World - purchased a company which was developing its own e-reader device designed specifically for reading newspapers.
Could this all be part of Murdoch's grand strategy?
The new digital newspaper will cater to a younger, more engaged audience. It has been said that the stories included in the publication will be shorter, 'snappier' and more suited to a digital-centric media metabolism.