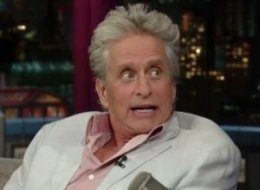 Actor Michael Douglas, who recently told the public that he had been diagnosed with throat cancer, went on Letterman's Tuesday show to discuss, among other things, his shocking cancer revelation and his chances of recovery.
He says that he has just completed his first eight weeks of treatment, and 'appeared a little thinner than usual', according to various sources.
His voice may change, he tells reporters, and he may find swallowing solid food difficult.
He seemed upbeat in the interview. When Letterman, always the kind television host, offered to see if there was anything he could do, he was met with a heartfelt 'Aw, give me a hug!'
Watch the interview in the video embedded below.