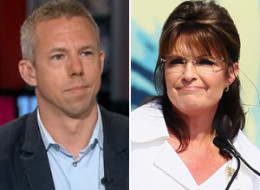 The author of a 'blistering'
Vanity Fair
profile of former Vice Presidential candidate Sarah Palin has told the hosts of MSNBC's Morning Joe that the 'worst stuff isn't even in' the profile.
"The worst stuff isn't even in there," Michael Joseph Gross said on "Morning Joe" Thursday. "I couldn't believe these stories either when I first heard them, and I started this story with a prejudice in her favor. I have a lot in common with this woman. I'm a small-town person, I'm a Christian, I think that a lot of her criticisms of the media actually have something to them. And I think she got a bum ride, but everybody close to her tells the same story."
He later told the hosts that her political career primarily hinges on her ability to keep on lying and get away with it. "If we decide to let her keep lying and getting away with it, she's gonna still be around," he said. "But if we start returning to the standard that a politician has to talk with people, and a politician has to tell the truth, then she's outta here, because she can't stand up to that."
[Via HuffPo]
WATCH: