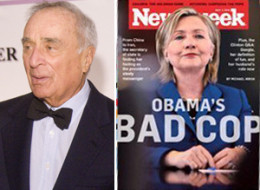 Sidney Harman, a billionaire who made his fortune selling stereos, has purchased ailing newsweekly
Newsweek
magazine from the Washington Post Company, according to reports.
The New York Times had reported on Monday that Harman was in serious talks to purchase the magazine - and was the frontrunner in the race to buy it throughout the time it was on the market.
Ad Age, an industry publication, said that the billionaire
"reportedly bid $1 for the magazine but agreed to assume the magazine's liabilities."
Harman has said publicly that he intends to keep the vast majority of jobs at the newly-purchased publication, including most of the top editorial and management staff.