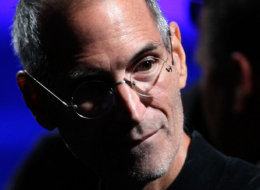 After posting its first drop in annual profits in six years, the CEO of Nintendo has set his sights on Steve Jobs, the creator of the iPod, iPhone and most recently, the iPad.
According to the
Times
of London, Saturo Iwata is prepared to 'go to war' with competitors, including Sony, Microsoft and Apple. Nintendo is "preparing to unleash the full force of its development and marketing artillery" against competitors, Mr Iwata said.
The Times Reports:
The Times adds, "Satoru Iwata, the Nintendo president, is understood to have told his senior executives recently to regard the battle with Sony as a victory already won and to treat Apple, and its iPhone and iPad devices, as the 'enemy of the future'."
Just a couple of months ago, Nintendo stated that they weren't worried about competition from Apple.
Nintendo's net profit for the fiscal year ending March 31 was down 18 percent to $2.5 billion, with sales dropping 22 percent to around $15.4 billion.
How will Nintendo fight back? Mashable investigates the potential outcome of a Nintendo phone as one alternative. What direction do you think the company should take? Is Apple really a threat? Tell us in the comments section below.
Read the full story at the Times Online.